News Archive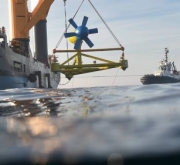 15 February 2015
Tapping on Tidal Energy In Indonesia
Wednesday 11th of February SABELLA, PLP and MEINDO signed a Memorandum of Understanding. The object of this industrial agreement is to develop ocean current energy in Indonesia to deliver electricity in a sustainable way to remote communities.
READ MORE
01 December 2014
Indonesian people great at Mahakam block
Recently, a number of journalists paid a visit to the oil and gas drilling rigs in the Handil Field of Total E&P Indonesie in the Mahakam Block in East Kalimantan in order to see the process of the French company's oil and gas production.
READ MORE